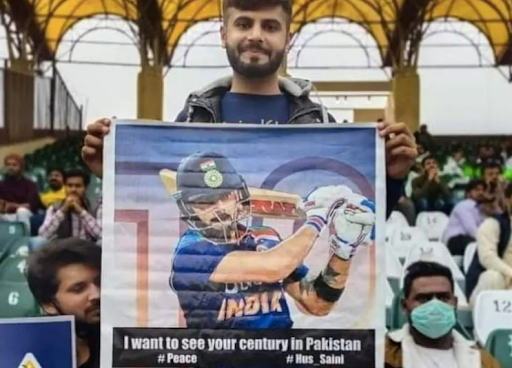 It is widely known that Virat Kohli is one of the best batsmen in cricket history. He has many international cricket records and is undoubtedly the most talked-about player in recent memory. The 33-year-old is adored not just in India, but all over the world, as seen by his performance in the ongoing Pakistan Super League.

Shoaib Akhtar, a former Pakistan bowler, posted a photo of a fan waving a Virat Kohli poster during a PSL game. A caption on the banner stated that he wishes to see his century in Pakistan. Shoaib Akhtar captioned a shot of a fan holding the banner and commented someone sharing love at the Gaddafi Stadium.

Kohli remains one of the best most deadly batters, even though some critics agree that he hasn't been at his peak in a few years. In international cricket, he last struck a century in 2019, but he still averaged over 40 in 2020 and 2021.

He has shown signs of returning to his best form, even while he waits for the coveted hundred in 2022. Kohli hit 79 and 29 in the final Test against the Proteas in South Africa in January this year. He then backed that up with two half-centuries in the three-match ODI series.

In the three-match ODI series against the West Indies, the Indian right-hander struggled, scoring 8, 18 and 22. However, the BCCI gave him a break for the final T20I after he struck a fluent 52 in the second T20I against the Caribbean.

Kohli will also miss the start of the three-match T20I series against Sri Lanka, which begins on Thursday. According to a source, he will, however, return to play in the Tests, which begin on March 4.

Multan Sultan has already qualified for the playoffs in the present seventh season of the PSL, along with Islamabad United, Lahore Qalandars, and Peshawar Zalmi. The playoffs will commence on February 23 and end on February 27 in Lahore with the final.