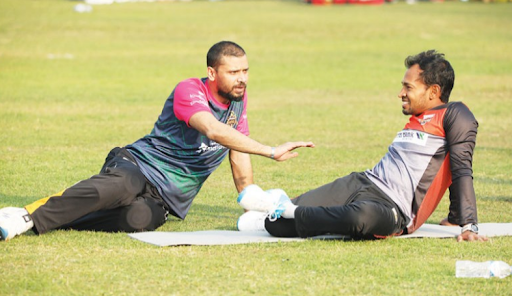 According to Bangladesh Cricket Board chief physician Debashis Chowdhry, the board is hoping to imitate the Covid-19 rules used in the 2021 Tokyo Olympics in the upcoming Bangladesh Premier League to effectively conduct the event amid an increase in Covid cases in the country.

Chowdhry stated that they aim to establish a Covid guideline for the BPL based on the one used during the Tokyo Olympics. They are adapting it to their country's current Covid circumstances.

The BCB is still scrambling to put all of their Covid protocols in place with just one day till the competition begins, and were further hampered when players and support personnel of the Khulna Tigers tested positive in tests organised by the team on Tuesday.

This year's BPL will be conducted in a Managed Event Environment rather than a bio-bubble to provide players and officials some breathing room after spending nearly a month within a bubble.

On Tuesday, the BCB started testing players, support personnel, and team officials for Covid-19, which concluded on Wednesday.

The tests were intended to be finished by Wednesday, and those who tested negative and had received two doses of vaccination were due to go to the MEE. However, those intentions were disrupted, and the squads were still waiting to enter the MEE on Wednesday.

Chowdhry responded that after all of the teams have checked into the hotel, the MEE for the BPL will begin. They haven't all entered MEE yet, and the teams have arrived at the hotel individually. He added that they wanted all members of the individual clubs to check-in by Wednesday, and then they would figure out the rest of the protocol.

Despite the obstacles and delays, the BCB's top physician is optimistic that the tournament will go down without a hitch, based on the success of other bilateral international series and domestic tournaments held at home during the pandemic.

Chowdhry commented that in past bilateral series and the Bangladesh Cricket League(BCL), they did their utmost to protect their players' health as much as possible. He said that they were able to complete the tournaments without incident. Now, based on the lessons learned, they hope to manage this BPL in a similar manner.

He added that this year's BPL is being held in the midst of a global Covid outbreak, which includes Bangladesh. The BPL committee has devised a policy to safeguard the safety of all participants in the event.