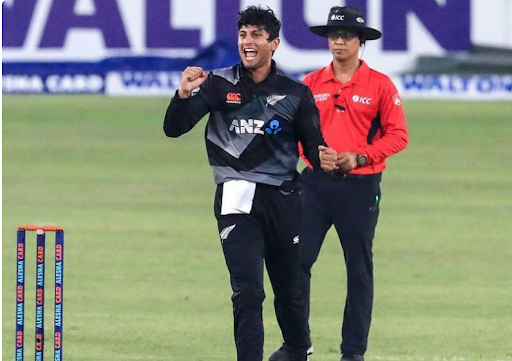 Rachin Ravindra, a young New Zealand all-rounder, said on Thursday that he had no idea if his name had anything to do with Rahul Dravid, but that he planned to pick Dravid's brain during the present T20I series. Rachin, who turned 22 on Thursday, was questioned during a virtual press event if his name was related to Rahul Dravid and Sachin Tendulkar, two of India's finest cricketers.

The Kiwi all-rounder responded that he is not sure and he has never actually inquired about the origins of his name with his parents.

The 22-year-old cricketer was born in Wellington, New Zealand. His parents are Ravi and Deepa Krishnamurthy; they came to Wellington from Bangalore, India in the 1990s.

Rachin earned his New Zealand debut in both the 2016 and 2018 U-19 Cricket World Cups, and it was around that point that he first met Dravid, who was the India juniors' coach.

Rachin said that Dravid is an incredible icon in cricket, and I had the opportunity to play against him some time ago. He added that Dravid was coaching India A and in a few series when he came to New Zealand a few years back. The young batter mentioned that it was fantastic to be able to interact with them in some way but he would have loved to talk to Dravid more as he is like a hero to him and Rachin looks up to him. He added that it would be nice to interact with him and "pick his brains".

Rachin rose to fame against Bangladesh earlier this year, when they were defeated 3-1 in a five-match T20 series. The 22-year-old was a member of the New Zealand team that played India in the World Test Championship final, although he did not make the starting XI a few months ago.

Mohammed Siraj bowled Rachin for seven runs in the opening T20I in Jaipur.

When asked regarding the experience of playing India in their home country, Rachin responded that all kinds of countries want to play in India, and he believes it's been a fairly "surreal" experience thus far. He added that this event has been very special to him.

He concluded that Ravichandran Ashwin is a first-class cricketer and he would love to have conversations and learn from him too.