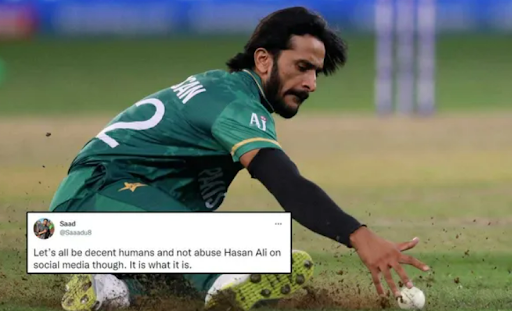 After Pakistan's shock elimination from the ICC Men's T20 World Cup after Australia crushed the Men in Green by 5 wickets, right-arm fast bowler Hassan Ali was widely criticized for his below-par effort in the tournament.

While disappointed supporters were quick to criticize Hassan Ali for letting up three crucial sixes in the final over, devoted cricket fans were ready to defend the bowler.

Bismah Mehmud, who called out followers for harassing Hassan Ali, encouraged fans not to respond to anyone who was attacking Hassan Ali or threatening him.

Ushna Shah, a Pakistani actress, also took to social media to ask followers to think about Hassan Ali as a human being. She added that no one in Pakistan is hurting as much as he is and urged everyone to be kind to the team.

"He is not a punching bag," another Twitter user, Mir Mohammad Alikhan, asked viewers to stop hating Hassan Ali. Alikhan said that Ali is still his national hero in Pakistan and every now and then, heroes fail miserably.

Imran Khan, Pakistan Prime Minister praised the team and said that Pakistan was the only team to make it to the semi-finals with an all-win record and the present Pakistan team should be proud of their achievements in the T20 World Cup. Khan, who was also the captain of the Pakistan team, led Pakistan to its first-ever World Cup victory in 1992. The prime minister posted on his social media that he also experienced similar defeats on the cricket pitch and he understands precisely how they feel. However, he added that the team should all be proud of the level of cricket they played and the humility they embraced in their victories.

Babar Azam, Pakistan's captain, also came to the defense of Hasan Ali, who dropped a decisive catch that changed the game to Australia's advantage. The skipper said that Ali is their key bowler and has helped Pakistan win multiple matches. He commented that every player will not be able to perform well in every match, there are always good days and bad days for athletes, and his support for Ali will not dwindle.

With a five-wicket triumph over Men In Green on Thursday, Australia advanced to the T20 World Cup final. Matthew Wade and Marcus Stoinis were undefeated in a six-hitting feast to lead Australia to the final.