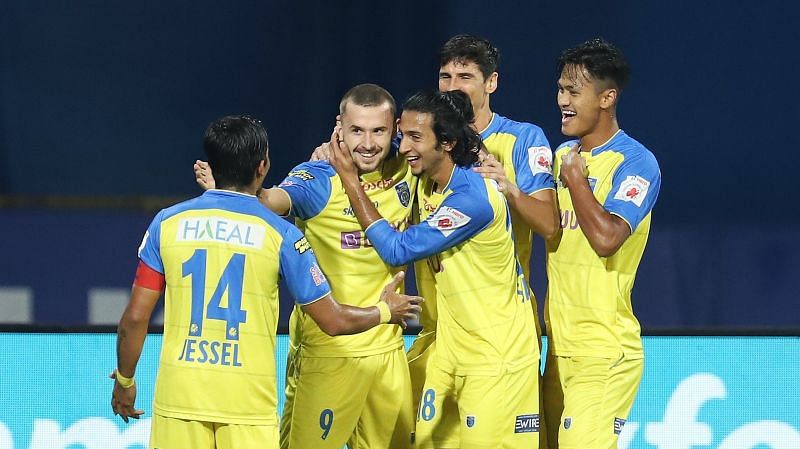 In the 65th game of the 2020-21 Indian Super League season at the GMC Bambolim Stadium in Goa, Kerala Blasters FC stole a last-gasp 2-1 victory against Bengaluru FC. In the first half, the Blues got to lead first, but as Kerala Blasters FC registered their third win of the season, Puitea and Rahul KP came up with timely objectives. With v showing some excellent footwork before releasing a shot on goal, Bengaluru FC began sprightly. On their own, Kerala Blasters FC had a range of set-piece chances, but the delivery was mostly bad to test the opposition.

Bengaluru FC should have scored another goal after the cooling break as Udanta Singh came up with a low cross-examination, but Costa got a critical deflection. Kerala Blasters FC equalized out of nowhere in the 73rd minute through Puitea's debut ISL goal. Sandeep Singh crossed the ball to the six-yard box with the Bengaluru FC players failing to respond, and Puitea took advantage to bring the ball into an empty net. As Kerala Blasters FC came up with a range of promising assaults, the game turned upside down.

Simultaneously, when Sandeep Singh moved Cleiton Silva to the ground, Bengaluru FC was denied a potential penalty. A few Kerala Blasters FC players skipped past the young winger, but his shot wasn't good enough to retake the lead. As Rahul KP beat Gurpreet after a rapid counter-attack following a chaotic process in the opposite box, Bengaluru FC was made to pay for that miss. It could quite easily have been Kerala Blasters FC who had to end up on the losing side as Juanan's acrobatic effort reached the post and popped out.

For either side, this proved to be the last significant chance as Kerala Blasters FC beat their arch-rivals for three significant points.