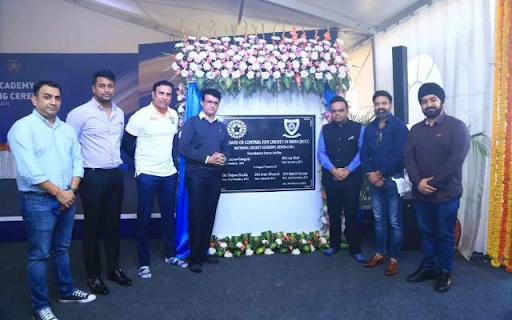 The National Cricket Academy (NCA) has played a significant part in cultivating and promoting India's cricketing talent over the years, ensuring that everyone aspiring to join the Indian team's playing XI faces a tough battle. NCA is also in charge of strengthening bench strength, as evidenced by the fact that India won a historic Test series in Australia last year and then had two distinct squads in England for the Test series and a B team for the white-ball series against Sri Lanka in July.

Work on India's new National Cricket Academy is now underway. The Board of Control for Cricket in India (BCCI) officials president Sourav Ganguly and secretary Jay Shah laid the foundation stone on Monday.

Apart from Ganguly and Shah, the national cricket board's vice-president Rajeev Shukla, treasurer Arun Dhumal, joint secretary Jayesh George and the current NCA head VVS Laxman were also there for the occasion. The NCA has been operating out of the M. Chinnaswamy Stadium in Bengaluru since its inception in the year 2000.

Sourav Ganguly shared a few photos of the new stadium, including the foundation stone. He tagged the BCCI and captioned it, "The new National Cricket Academy."

BCCI has a 99-year lease on the property. The stadium is owned by the Karnataka State Cricket Association (KSCA), leased it to the national cricket board for outdoor practice as Ground B.

There is also an indoor practice facility and a contemporary gymnasium with its area at the stadium. It will be finished in a year and, more crucially, will include three stadiums where domestic matches can be held. The facilities will undoubtedly help to propel Indian cricket forwards in the coming years.