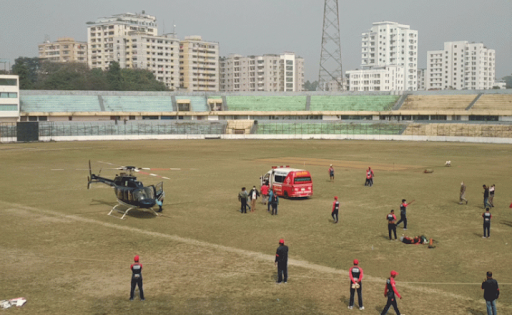 An unusual occurrence occurred during the present Bangladesh Premier League (BPL) when a helicopter unexpectedly landed in the center of the stadium, taking the Minister Group Dhaka squad off guard. The players were caught off guard by the rapid landing and fled helter-skelter to avoid the dust.

According to sources, the incident occurred at the MA Aziz Stadium in Chattogram at 1:10 p.m. on Sunday afternoon while a few players from the Minister Group Dhaka team, including Andre Russell, Tamim Iqbal, Mashrafe bin Mortaza, and Mohammad Shahzad, were having a net session. The players were taken aback by the rapid arrival of the chopper right in front of their eyes, and they began running.

The helicopter was then discovered to be being used as an ambulance to transfer a critically ill patient. All prior permissions were obtained from the District Commissioner, and the Sports Association was also notified. The Dhaka team and the BPL organisers, on the other hand, had no idea, and the incident caused panic.

The helicopter was supposed to land in the unoccupied space in the eastern part of the stadium, but it landed in the western corner, where the sportsmen were practising, according to Shahabuddin Shamim, DSA General Secretary, Chattogram. He commented that from a humanitarian standpoint, the helicopter was granted approval to land. He added that they were alerted to the event ahead of time, and they did notify the cricket board and the Dhaka team.

Minister Group Dhaka handily defeated Comilla Victorians by 50 runs, boosting their NRR and propelling them to second place in the points table. Dhaka captain Mahmudullah scored 70 runs off just 41 balls to help his team register a massive score of 181 runs after batting first.

Bangladesh's hero in the historic Test win against New Zealand, Ebadot Hossain, and Andre Russell led Dhaka's response with the ball, restricting them to just 131 runs as they claimed their third win of the series.