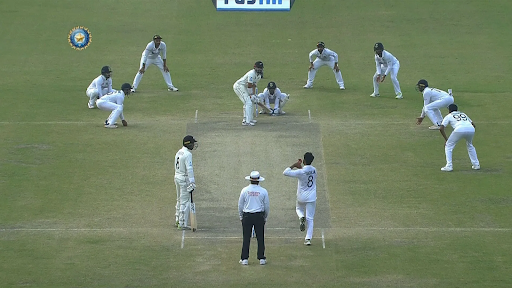 There was a lot of tension in both squads. The audience was ecstatic, and there was a distinct sense of expectation in the air. Even light had a significant impact in the first Test match between India and New Zealand. The Black Cap held on for a draw in this historic Test match that had it all.
New Zealand was 9 wickets behind in the second innings, and India was on the verge of victory. Rachin Ravindra and Ajaz Patel, the final New Zealand partnership, bowled 8.4 overs to deny India victory.
The host batted first and put up a competitive total of 345, with debutant Shreyas Iyer hitting a century. In response, New Zealand was bowled out for 296 runs. With a score of 234/7, the hosts declared their second innings, setting their opponents a target of 284 to win. However, the Black Caps were able to draw the match after surviving 98 overs.
After the first Test between India and New Zealand, New Zealand is in fifth place in the points table, having drawn their only match in the second WTC cycle.
On the other hand, India is now in second place in the table, having won two of their six matches. Sri Lanka is at the top of the table, with the West Indies in fourth place. The England team is currently in the lowest place in the table, having won only one of their five matches in the second WTC cycle, while Pakistan is in third place.
POINTS TABLE




WORLD TEST CHAMPIONSHIP 2021-23

TEAM

PER%

PNTS

SERIES

WON

LOST

DRAW

PENALTY

SRI LANKA

100

12

1*

1

0

0

0

INDIA

50

30

2

2

1

1

2

PAKISTAN

50

30

2

2

1

1

2

WEST INDIES

33.33

12

2*

1

2

0

0

NEW ZEALAND

33.33

4

1*

0

0

1

1

ENGLAND

29.17

14

1*

1

2

1

2