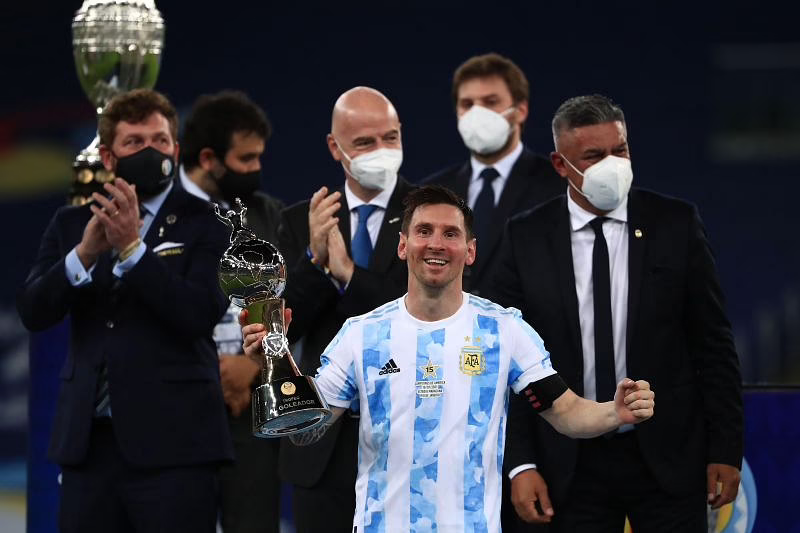 Following Argentina's victory at the 2021 Copa America, Lionel Messi broke Cristiano Ronaldo's Instagram record for most likes on an athlete's photo.

Messi's victory was remarkable since it was his first international honour with Argentina, and it ended a 28-year long wait for the Copa America trophy.

As of this writing, Lionel Messi's Instagram post has accumulated more than 20 million likes and 515,000 comments. Cristiano Ronaldo broke the record for the most likes on a memorial post to Argentina great Diego Maradona after the legend passed away in 2020.

The photo of Cristiano Ronaldo with Diego Maradona has approximately 19.9 million likes. Around 16.5 thousand people have liked Lionel Messi's homage to his fellow countryman.

With over 20 million likes, Lionel Messi's Instagram post is currently the sixth most liked picture on the platform. Except for the Barcelona star and Cristiano Ronaldo, no other athlete makes the top 20 list.

Both Cristiano Ronaldo and Lionel Messi enjoyed excellent careers with their respective teams, Portugal and Argentina. Despite Portugal's early exit from Euro 2020, Cristiano Ronaldo had a terrific individual tournament. For his five goals at Euro 2020, the five-time Ballon d'Or winner was given the Golden Boot.

Cristiano Ronaldo and former Iranian forward Ali Daei are presently tied for the most goals in international football. On 109 goals, Ronaldo and Daei are tied, but Ronaldo is expected to overtake Daei soon.

Lionel Messi, on the other hand, was instrumental in Argentina's Copa America victory. The 33-year-old was also named the tournament's best player. After scoring four goals, he was also voted Top Scorer. The six-time Ballon d'Or winner was named Best Player of the Tournament.

Cristiano Ronaldo and Lionel Messi are expected to sign contract extensions with their respective clubs following their international success. Barcelona is set to offer Messi a new long-term deal, while Juventus is poised to offer Cristiano Ronaldo a one-year extension.