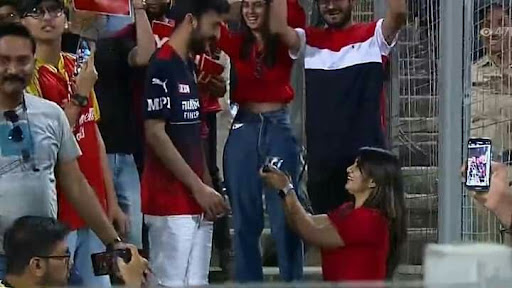 During the IPL match, a young woman has offered love to her beloved person. The girl was seen making love to a boy wearing an RCB T-shirt during a match between Royal Challengers Bangalore and Chennai Super Kings on May 4. When a video of this spreads through social media, it is quite the matter of discussion.

In that match, as he got an offer to float in the sea of love for the beautiful young lady, the joy of the victory of the favorite team has doubled for that young fan of RCB. They may not have even imagined such a dream day. On the same day, two joys. With the victory of their favorite team, this loving couple also confirmed their future path.

Former India batsman Wasim Jaffer joked about the incident on Twitter. In a tweet, he wrote, ''A smart girl has proposed to an RCB fan. If he can be loyal to RCB, then he must be loyal to his partner. Well done! And a good day for the proposal. ''

Wasim's tweet has a deep message. That is the true love, patience of RCB fans. Because, even though it is the 15th edition of IPL, the team has not tasted the title yet. The team has also played under the leadership of Indian captain Virat Kohli for a long time. That didn't work either. However, even though they could not win the title, their support did not reduce.

Meanwhile, the love affair on the cricket field or the intimate scene of a loving couple is not new this time. Such incidents have happened innumerable times. Just a few days ago, during a match between Kolkata Knight Riders, a young woman in the gallery proposed marriage to Kolkata captain Shreyas Iyer with a placard in her hand. That picture also spread in the net world.