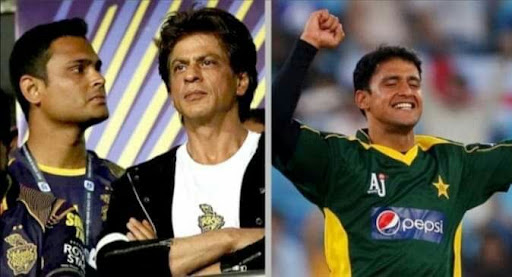 The time was 2008 when Pakistani cricketers played in the first season of the Indian Premier League (IPL). But that same year, the two countries' political feud began with a militant attack on the Taj Mahal Palace and Tower Hotel in Mumbai, India. As a result, the Board of Control for Cricket in India (BCCI) banned Pakistani cricketers from playing in the IPL.

However, Pakistani all-rounder Yasir Arafat was offered to play in the IPL. Bollywood king Shah Rukh Khan, the owner of the IPL team Kolkata Knight Riders(KKR), called Arafat to play in the IPL. Arafat himself said this in a recent interview on a YouTube channel. Shah Rukh also wanted to sign a three-year contract with him.

"The Pakistan Cricket Board (PCB) has decided who will play in the first season of the IPL," Arafat said. "My name was not on that list. So I couldn't play. At that time (2008) I was playing for Kent in the county of England. There, the scouts of the Calcutta team went to talk to me. They told me, 'Shah Rukh Khan wants me to play for KKR in IPL'. "

But at first, the Pakistani cricketer was quite surprised by such an offer. He thought it was just fun. "I thought they were joking," Arafat said, "Why would Shah Rukh send people to pick me up? Although they gave me their business cards and took my phone number and e-mail address."

"I found out a few weeks later that I had not been contacted because I did not agree," Arafat said. "Then Shah Rukh called me. He also wanted to sign a three-year contract with me. But sadly, Pakistani cricketers were banned from playing in the IPL after that tragedy. The former Pakistani star has expressed regret over this. "

Arafat made his international debut in 2000 in a Pakistani jersey. Till 2012, he has played only 3 Tests and 11 ODIs in his one-decade international career. Furthermore, he has played 13 games in the T20s. After that, Arafat leaned towards playing in league tournaments of different countries.