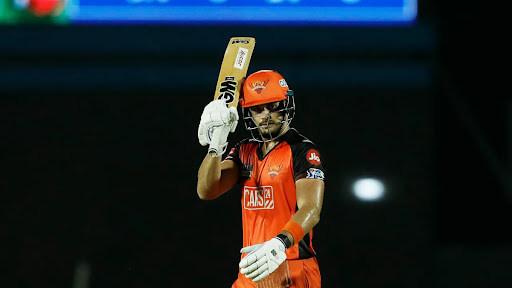 Kolkata Knight Riders and Sunrisers Hyderabad played in the 25th match of the ongoing Indian Premier League (IPL). Sunrisers Hyderabad beat Kolkata Knight Riders by a huge margin of 7 wickets in a high scoring match in Mumbai. After batting at the target of 176 runs given by Kolkata, Hyderabad anchored at the port of victory in 17.5 overs. Through this win Williamson's side picked up their third win of the tournament.

Chasing the target Sunrisers Hyderabad were in danger from the beginning. The quick departure of the two openers raised fears in the team's batting line-up. However, Rahul Tripathi and Aiden Markram did not take long to overcome that fear. The unbroken pair of 94 runs of the two basically brought victory to Hyderabad. Rahul Tripathi was dismissed for 71 off 37 balls but Aiden Markram was at the crease in the end. Markram left the field with a victory after scoring 68 runs off 36 balls with 6 fours and 4 sixes.

Losing the toss Kolkata Knight Riders batted first. At the end of the 20 overs, Kolkata collected 175 runs for the loss of 8 wickets. Kolkata did not start batting well. The two openers returned without touching two figures. Venkatesh Ayre scored 6 and Aaron Finch scored only 7 runs. Captain Shreyash Ayyar took the helm of the team at number three. Although the other batsman were not able to set on 22 yard but Ayar ran was the exception. He scored 28 runs from 25 balls, which is not a big score nut this innings has played a very effective role for the team.

In the middle order, Nitish Runner's stormy innings of 54 off 36 balls set Kolkata's run wheel in motion. The innings was of 6 fours and 2 sixes. In the end, Kolkata got a big collection through Andre Russell's tornado innings. Russell made 49 off 25 balls with four fours and sixes. By that time 175/6 run was written on the score board.

Hyderabad's best bowler Umran Malik took 2 wickets for 27 runs in 4 overs against Kolkata batsmen. Natarjan cost 37 runs to take 3 wickets. Bhubaneswar Kumar, Marku Jansen and Jagadisha Suchit also got one wicket each.