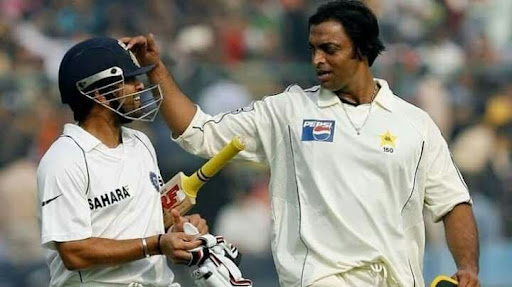 It is not uncommon for batsmen to leave the field after being injured by former Pakistan fast bowler Shoaib Akhtar. However, Shoaib deliberately tried to hit former India batsman Sachin Tendulkar with the ball. The matter was reported by Shoaib himself. After that there was a lot of noise in the net world.

In an interview, Shoaib mentioned the 2006 India-Pakistan series. The two nations met in the third Test in Karachi. Speaking about that match, Rawalpindi Express spoke about his murderous mood. This is the first time Shoaib has admitted to plotting to injure Sachin.

In that interview, Shoaib said, ''I have never said this before. My goal in the Karachi Test was to injure Sachin. I was determined to hurt him at any cost. Inzamam-ul-Haq told me to keep the ball on the wicket. But I wanted to hurt Sachin. After a bounce hit his helmet, it seemed like work was done. Later, after watching the video, I realized that Sachin had saved his head. ''

Why such a murderous thought came to mind? Shoaib said, "It was the aggressive attitude that came to his mind. '' He wanted to get Sachin out anyway. Shoaib saw Sachin as a big obstacle to win, forgetting the batting failure of the team. Irfan Pathan's hat-trick reduced Pakistan's first innings to 240 runs.

Another fast bowler Mohammad Asif bowled brilliantly in the Karachi Test. The Indian batsmen were trembling in front of his bowling. However, Shoaib could not get Sachin out despite trying hard in the entire innings. However, Tendulkar had to try hard to handle the Pakistani pacer that he had to close his eyes to handle the speeding bounces like gunshots.