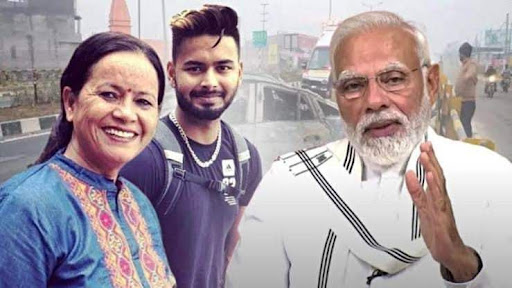 Indian cricketer Rishabh Pant was a victim of a terrible car accident on Friday morning. The Indian team's wicket-keeper batsman was seriously injured in this accident. He did not get help in the accident, later he called an ambulance and went to the hospital. However, due to the condition of the car in this accident, the good news is that Panth survived. This time the Indian Prime Minister Narendra Modi himself inquired about the physical condition of the Indian cricket star.

Modi called Panth's mother. The Prime Minister of India inquired about the physical condition of the cricketer of the national team. He wished Panth a speedy recovery and continued all-out treatment. Earlier on hearing the news of his injury in the accident, Modi expressed his grief in a tweet. In that tweet, he wished for Panth's speedy recovery.

Panth, who suffered an accident on his way home for a holiday, is currently in a stable condition. However, according to the hospital, Panth's bones were not cracked. Pant has injured his knee ligament. Panth had full consciousness after the accident. His back was severely injured. Doctors are looking at it seriously. Panth's wounds were not caused by burns. But it's nothing too serious.

However, from Panth's physical condition and the words of the doctors, it is believed that he may have to undergo surgery in several places. It can be on legs and head. But for this cricketer to fully recover, it may take around 6 months. In that case, he will miss several series and the Indian Premier League (IPL) in the Indian jersey. The World Cup is ahead.

Meanwhile, the entire cricket world is worried about Panth's sudden accident. He is receiving good wishes from cricketers and cricket related people around the world. Starting from his teammates, the cricketers of all countries, including Bangladesh and Pakistan, have only one wish, Panth's speedy recovery. Many cricketers of the world including Virat Kohli are expressing deep sorrow on social media for such a terrible accident.