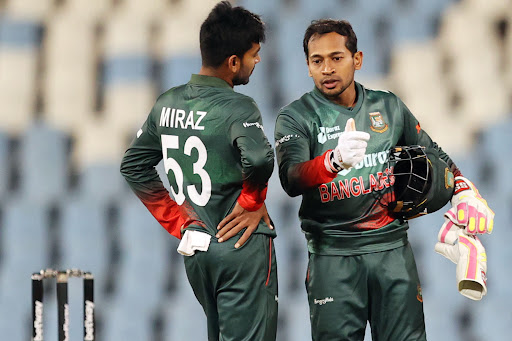 The group stage match of Dhaka Premier League DPL, one of the domestic cricket events of the country, has already ended. Six teams have confirmed the Super League. Gazi Group Cricketers and Rupganj Tigers confirmed the Super League as the fifth and sixth teams on Friday.

Mohammedan Sporting Club, one of the favourites of Dhaka Premier League, showed a great surprise at the beginning of this year's event. Mohammedan picked up five cricketers from the national team. The team with Shakib Al Hasan, Mahmudullah Riyadh, Mushfiqur Rahim, Taskin Ahmed and Mehedi Hasan Miraj seemed to become champions. But the alas! Mohammedan Sporting Club has said goodbye from the group stage of this year's event.

Mohammedan did not get any big five faces in the squad of Bangladesh national cricket team due to South Africa series during DPL. However, before flying to South Africa, the club unveiled the jersey with these five big faces in a very informal ceremony. Despite not getting the national team cricketers in the squad, captain Shubhagat Home started the tournament with 100% optimism about winning the title.

Although Mahmudullah Riyadh joined the team at the end of the T20 series, the other four cricketers were not able to play in the Mohammedan jersey. Shakib Al Hasan is staying in the United States on leave from the national team due to family reasons. On the other hand, Taskin Ahmed did not play in DPL due to injury. However, Mehedi Hasan Miraj and Mushfiqur Rahim were supposed to join the team but before their joining, the farewell bell rang for Mohammedan Sporting Club.

Wicketkeeper-batsman Mushfiqur Rahim and all-rounder Mehdi Hasan Miraj will play for Sheikh Jamal Dhanmondi Club this time as no match was played in Mohammedan's jersey and Mohammedan Super League could not be confirmed. Mohammedan Sporting Club did not raise any objection on the transfer issue. So Mushfiqur Rahim and Mehedi Hasan Miraj will play for Sheikh Jamal Dhanmondi Club in the Dhaka Premier League Super League. Sheikh Jamal is now out of reach from the rest with 18 points from 9 wins after playing 10 matches. Legends of Rupganj and Abahani are in the second and third place in the league table with 14 points.

Despite not being able to confirm the Super League, Mohammedan Sporting Club left the field with a huge margin of 70 runs against Mashrafe Bin Mortaza's Legends of Rupganj in the last match on Friday. Captain Mahmudullah Riyad played a stormy innings of 70 runs from 47 balls.