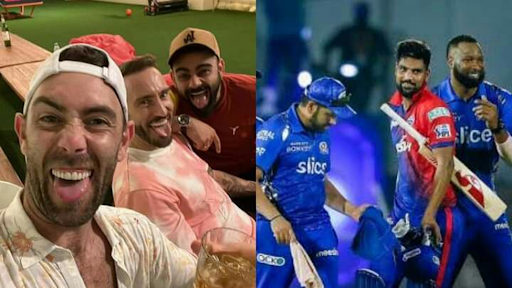 Mumbai Indians and Delhi Capitals played their last match in the ongoing Indian Premier League (IPL). For Mumbai, who has been knocked out from the group stage, the match was just about abiding by the rules, but it was very important for Delhi. Because, if they win this match, they will be able to go to the playoffs. But they failed to meet the figures and Rishabh Pant's dream was shattered after losing by 5 wickets to Mumbai.

The cricketers and coaching staff of Royal Challengers Bangalore(RCB) have joined the celebration at the team hotel. Virat Kohli got tickets to Eden Gardens at the loss of Delhi. Kohli, Plessis and Maxwell danced together with much joy. The dance started at midnight at RCB's hotel. Bangalore seems to be happier with this victory than Mumbai.

Rohit Sharma returned to the dressing room with 25 runs in reply to Delhi's 180 runs in the match. That's when Kohli's luck may be full of worries. But with Ishan Kishan and Dewald Bravis batting responsibly, Mumbai went on to win. However, the key to bringing a festive occasion for Kohli is Tim David. Mumbai won by a remarkable 34 off 11 balls.

Meanwhile, before the start of the match, the points table was calculated that if Bangalore wins, the play-off dream will end for Bangalore. That is why there was no shortage of anxiety and excitement for Kohli in this match. They even directly supported Mumbai from the start of the match. RCB also wished for a good game.

Kohli enjoyed every ball of the match while sitting in front of the television together. They could not control the excitement as Mumbai's victory was assured. Kohli shared that picture with the fans through social media. The other three teams that have already been confirmed for the play-offs are Gujarat Titans, Lucknow Super Giants, and Rajasthan Royals.