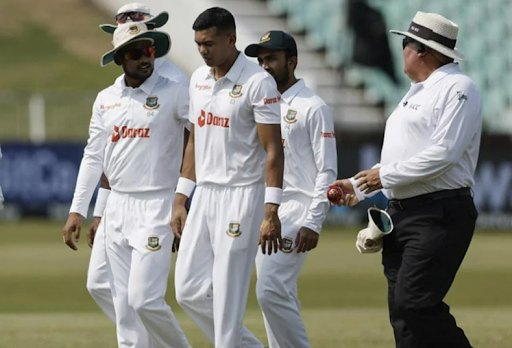 Bangladesh were defeated by South Africa by 220 runs in the first Test of the two-match series on Monday, with Keshav Maharaj taking seven wickets in the fourth and final innings. The visitors were dismissed for 53 runs, resulting in a stunning victory for the Proteas. However, Maharaj's brilliance has been overshadowed, as Bangladesh fans have resorted to social media to voice their frustration after some on-field decisions went against them in South Africa's second innings.

Bangladesh made a number of LBW arguments in South Africa's second innings, and several of them were very close, with replays showing the ball hitting the stumps. Bangladesh had succeeded to appeal Adrian Holdstock's not-out judgement to remove Sarel Erwee in the 19th over of the innings.

Later, with Keegan Petersen on strike, pacer Khaled Ahmed had an LBW judgement against him in the 26th over. Bangladesh did not request a review, despite the fact that replays proved it would have hit the stumps.

Former Bangladesh captain Shakib Al Hasan also turned to the internet to express his disgust with Adrian Holdstock and Marais Erasmus' on-field umpiring. He wrote that he believes it is time for the ICC to return to neutral umpires, given the pandemic situation in most cricket-playing countries are under control.

Another fan reciprocated with a similar message. It said Shakib Al Hasan has once again advocated for neutral umpires in international cricket. Bangladesh was dissatisfied with the umpiring yesterday, and he agrees with them. It was unacceptable how many LBWs were not given.

Khaled Mahmud, Bangladesh's team director, was also dissatisfied with several of the on-field decisions, and he voiced his displeasure after stumps on Day 4. He commented that in that game, there was no escaping from the awful umpiring. Several decisions were made against them. They also lost a wicket because the boys were afraid to take a review. They might be chasing 180 instead of 270 if they get those decisions.

He added that honestly, it's been a long time since he has seen such a discrepancy in umpiring. The umpires, on the other hand, are the greatest judges on the field. They must accept the outcomes.

The second Test, which starts on April 8, will see South Africa against Bangladesh once again.