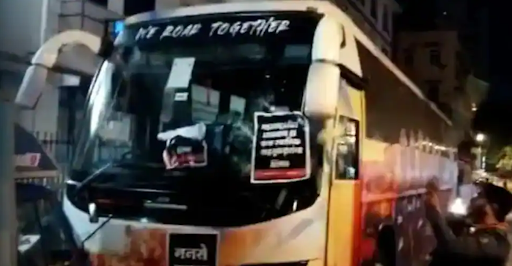 The Delhi Capitals are staying in the Taj Palace in Mumbai's Colaba district. The police have increased security surrounding the hotel after taking serious notice of the occurrence.

Officials reported early on Wednesday that activists from Raj Thackeray's Maharashtra Navnirman Sena damaged the windows of at least one of the luxury buses stopped outside a five-star hotel to carry players to the forthcoming Indian Premier League (IPL) 2022 matches (March 16).

Colaba Police Station dispatched a team to the scene and detained five people in connection with the crime.

Around half a dozen MNS-Vahatuk Sena (Transport Wing) members sneaked up to the bus shortly before midnight, put posters with their demands on the front, screamed slogans, and began shattering the windows.

According to the photographs above, the vandalised bus belonged to the Delhi Capitals, as the team's motto 'We Roar Together' was scrawled on the vehicle's glass.

Five prominent MNS-VS leaders, including Prashant Gandhi, Santosh Jadhav, and Bharmu Nandurkar, have been arrested and will appear in a Magistrate Court later on Wednesday.

MNS-VS President Sanjay Naik later stated that they were protesting the hiring of buses from outside the state for the IPL tournament, depriving locals of employment chances despite the fact that they can furnish identical vehicles as needed.

Naik told one of the local reputable press that despite their objections, the board has permitted multiple buses and other smaller vehicles to arrive from Delhi and other areas of the country, posing a threat to the Marathi people's livelihood.

The Taj Palace, a hotel in Mumbai's Colaba district, is where the Delhi Capitals are staying. The Rishabh Pant-led team has arrived in Mumbai to start preparations for the next IPL 2022, which will begin on March 26.

On March 27, DC will meet Mumbai Indians, the five-time IPL champions, at Brabourne Stadium in their first match of the competition.

On the other hand, the authorities have increased security around the Delhi Capitals' hotel, taking the situation seriously.