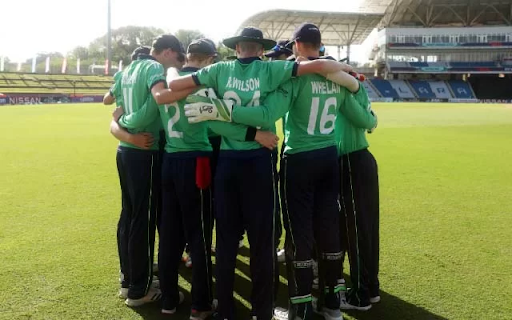 From October 16 to November 13, the ICC T20 World Cup 2022 will be placed in Australia. The tournament host would be defending their championship in front of their home crowd, having won the previous edition in a one-sided match against New Zealand in Dubai. The top eight teams will compete in the Super 12 phases right away.
In the meantime, the other teams will compete in the group rounds to compete in the Super 12. Two of those teams have now been formally announced as having qualified for the pool rounds of the eighth edition of the showcase tournament and will be flying to Australia. The United Arab Emirates (UAE) and Ireland are the countries in question.
After victories against Nepal and Oman in the semi-finals of the eight-team qualification, the International Cricket Council (ICC) announced on March 21 that the UAE and Ireland have qualified for the group stages of this year's T20 World Cup in Australia. On February 22, the Middle Eastern country defeated Nepal by 68 runs in the first semi-final of the ICC Men's T20 World Cup Qualifier A, while Ireland defeated Oman by 56 runs in the other semi-final.
The UAE secured a spot in Group A of the first round by defeating Ireland by seven wickets in the final, while Ireland is in Group B. The UAE will compete in the T20 World Cup against teams such as Sri Lanka, the 2014 champions, and Namibia. As the fourth team, they will be joined by the runner-up of Qualifier B in June. Their three matches will be held at Geelong's Kardinia Park Stadium.
On the other side, Ireland would be up against the two-time champions West Indies and Scotland. As the fourth team, they would be joined by the winner of Qualifier B. Bellerive Oval in Hobart will host all three of their games.
UAE T20 World Cup fixture
| Day | Date | Match | Time (IST) | Time (BDT) | Venue |
| --- | --- | --- | --- | --- | --- |
| Sunday | 16 Oct 2022 | UAE v Runner-up from Qualifier B | 13:30 | 14:00 | Kardinia Park Stadium, Geelong |
| Tuesday | 18 Oct 2022 | Sri Lanka v UAE | 13:30 | 14:00 | Kardinia Park Stadium, Geelong |
| Thursday | 20 Oct 2022 | Namibia v UAE | 13:30 | 14:00 | Kardinia Park Stadium, Geelong |
IRELAND T20 World Cup fixture
| Day | Date | Match | Time (IST) | Time (BDT) | Venue |
| --- | --- | --- | --- | --- | --- |
| Monday | 17 Oct 2022 | Ireland v Winner from Qualifier A | 13:30 | 14:00 | Bellerive Oval, Hobart |
| Wednesday | 19 Oct 2022 | Scotland v Ireland | 09:30 | 10:00 | Bellerive Oval, Hobart |
| Friday | 21 Oct 2022 | West Indies v Ireland | 09:30 | 10:00 | Bellerive Oval, Hobart |