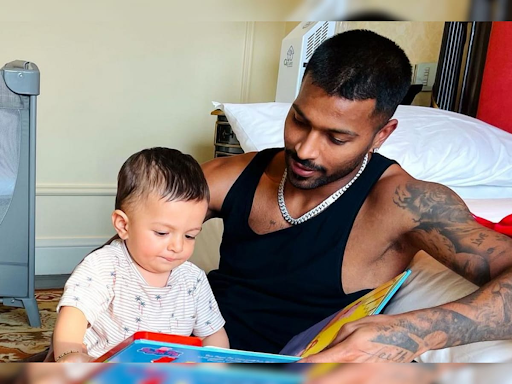 Cricket fans are watching the fight between the two brothers in this year's season of the Indian Premier League (IPL). Indian cricket st ars Hardik Pandya and Krunal Pandya are representing two different teams in the tournament. The insanity of the children of the star couple in that fight is not less.

But which teams are supported by the two Pandya children? Surprising information came out in his answer. Hardik's son's favourite team is Lucknow SuperGiants. Krunal himself posted a picture of his nephew on Instagram in Lucknow's jersey. Hardik Jr. is a staunch supporter of his uncle's party, not his father's party.

"Symbol of my good fortune, Agastya is on my side," wrote Krunal, publishing a picture of his nephew. But the Lucknow jersey on Hardik Jr. must have added to the tension in the Hardik-Krunal fight. The excitement is spreading among their fans beyond the boundaries of their own family. This fight is definitely a sweet fight.

Hardik and Krunal once played in the IPL together for the Mumbai Indians. However, this time the path of both has been changed. The two brothers returned to the tournament at a new address. Hardik has already written his name in Gujarat before the auction. From the auction, Krunal's address is Lucknow. Both the teams are new in this IPL.

Meanwhile, the fight between these two teams is quite intense in the points table. Lucknow tops the list with 16 points after playing 11 matches. On the other hand, despite being equal in terms of matches, wins and points, Gujarat lags behind in net run rate. Now it's your turn to see, in the end who will win the top position. Gujarat or Lucknow!