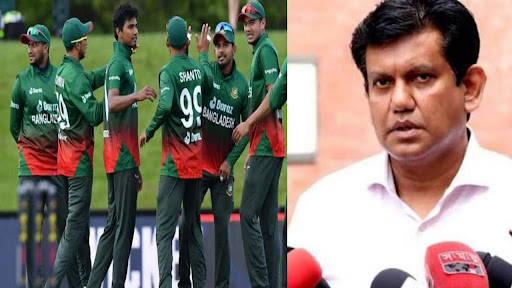 Bangladesh cricket team head coach Russell Domingo has resigned. Rumors were rife that Domingo would be dropped for quite some time. Meanwhile, he announced his resignation. Since then, the question has been circulating in Bangladesh cricket, who is the next head coach of the Tigers? Bangladesh Cricket Board Chief Executive Nizamuddin Chowdhury Sujan spoke about the recruitment of Tigers coach.

After Domingo's resignation, Hathurusinghe is rumored to be the head coach of the Tigers. But not only Hathurusingha, BCB is trying to move forward by keeping several other options in hand. This is understood from the words of the chief executive. Nizamuddin Chowdhury Sujan gave such a glimpse at a press conference in Mirpur.

In response to a question in the press conference, he said, "The appointment of the head coach is a complicated process. It's not like I can say who will be the coach right now. One of us has resigned. Since this position is vacant, we will work knowingly about it. When the coach Maybe we will talk about this once we are 100% sure about it."

The chief executive did not hint at the coach as things were not going well. He said, "It's not right to tell us a name before talking to someone. Many people are in contact, but in the end it will be embarrassing for them if they don't have a coach. The national team needs a head coach because Domingo has resigned, so we are serious about this. Working. I will appoint a coach as soon as possible. BCB is working like that."

However, Bangladesh will try to appoint a head coach before the England tour, he said. Sujan also said, "England will visit Bangladesh soon. We will get a lot of time for BPL. We will try to get someone reliable with the national team before the England tour. BCB is working on the matter".

Bangladesh Cricket Board wants to appoint a coach for the long term for coaching. The Chief Executive said in this regard, "If we get someone reliable, who we feel can work for Bangladesh for a long time, can go for a long time, then of course we will go for a long-term contract. That is what we expect. The head coach of the national team needs to be for the long-term. will benefit".

When asked about the type of coach to be appointed, he told reporters, "When we decide, we will discuss the best option for the team. Considering the team, we will definitely take the best option. In that case, name, experience, everything will be considered. At this moment It would be wrong to say that. The board will decide how to move forward."

Note that England will visit Bangladesh in March 2023. They will play a bilateral series against Bangladesh. Bangladesh - England will face each other in three ODI and three T20I series.