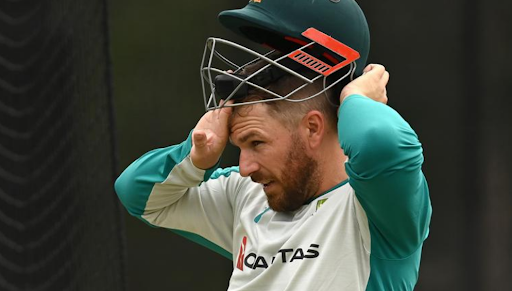 Andrew McDonald is getting ready for his first press conference as a coach. Aaron Finch's future has been the subject of speculation for more than a year.

However, it appears that the Australian great white-ball cricketer is nearing the end of his career. Finch's position at the head of the order will have to be decided at some point.

He may be captain, but at the top of the order, the 35-year-old is a walking wicket. His ODI record is still unblemished. Finch has a career average of above 40 and has 17 centuries.

In three of his last five innings, he has two half-centuries and a century, however those runs came in 2020.

The 35-year-old hasn't scored a run for Australia in international cricket since 2021.

In 23 T20 innings, he has only reached 50 three times, and his first-ball duck on Thursday came after a gruelling 23 against Pakistan, when Travis Head, playing his first ODI since 2018, recorded the eighth quickest century in Australian history.

Finch would not be in the team if he wasn't captain.

Then-coach Justin Langer and head of selection George Bailey backed Finch to get the team to the World Cup in 2021.

Australia won their first T20 tournament as a result of their decision. Finch, on the other hand, struggled in the knockout rounds, making only five and nought.

He has no problems with off-spin bowlers. Finch hit a six into the stands even on Tuesday.

But the problem is that Finch opens, and he can't time a ball against serious pace and leg-spin.

McDonald, Finch's former teammate and Victorian coach, must realise that this nightmare can't go on any longer.

Finch is still one of the most well-liked men in the country, and he is a great leader.

The decision on his future will be made by McDonald and Bailey, as well as Tony Dodemaide.

Finch will complete the rest of the series against Pakistan, but with an ODI World Cup and a home T20 series still more than a year away, there must be serious concerns that the long-serving skipper may not be able to compete.

Australia now has choices at the top of the order thanks to Head's dramatic return and the growth of Ben McDermott, who appears to be settling down at the international level.

Mark Waugh, a former Australian opener and selector, spoke about Finch's troubles only a few months ago.

Waugh commented that in an ideal world, they'd like to see Aaron Finch hit home runs without having to discuss it. However, they have been discussing this for the past 15 months.

He remarked that there's no denying that Finch is not the player he once was, and I believe the statistics back that up. Over the last two years, his strike rate in all forms of T20 cricket — IPL, BBL, and T20 Internationals — has fallen 20 points, from 145 to about 125.

Finch's average has plummeted from around 35 to the upper 20s, and it's most likely due to the method he's batting; he's no longer as dominant as he once was. Waugh believes he is a little uneasy against raw pace and wrist spin, so he needs to finish aggressively in this series.

Waugh added that he would have Finch open again, because he is not sure what he didn't open the previous night when he needed runs for the future. He is not saying he won't play in the World Cup, but it'd be fantastic to see him get into shape.

Waugh is well-versed in the harsh realities of international cricket.

He was dropped, along with his twin brother Steve, prior of the 2003 World Cup.

Australia has now won three World Cups in a row as a result of this decision.